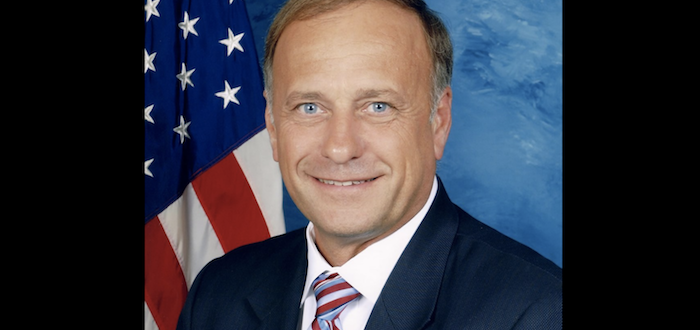 Rep. Steve King Is Featured Speaker At ProEnglish Congressional Briefing
Rep. Steve King of Iowa was the featured speaker at the recent ProEnglish Congressional Briefing held in the North Congressional Meeting Room at the United States Senate and Capitol Visitor Center on Capitol Hill in Washington.
Rep. King broke away from immigration votes in the U.S. House of Representatives and spent several minutes speaking about official English legislation in a meeting room filled with several Legislative Directors, Legislative Assistants, and other Congressional aides and staff members.
Rep. King spoke at length about the various reasons why he always sponsors and strongly supports HR 997 – The English Language Unity Act – including talking points about how HR 997 is vital for economic, financial, labor, workplace, and cultural assimilation purposes. Rep. King also recently tweeted about how assimilation "is our American strength."
HR 997 was originally authored by Rep. King, and he also has made some very important floor remarks about the bill. During his floor remarks, Rep. King stated: "America needs to establish English as the official language, because it is our common language. We are extraordinarily blessed to have English as our common language, and we can eliminate, then, the billions of dollars that we spend as we hire interpreters, and we slow down our process. And if we establish English as the official language, we will accelerate the learning of our language all across the land."
HR 997 designates English as the nation's official language of governmental operations and also establishes a uniform language requirement for the citizen naturalization process.
ProEnglish greatly appreciates Rep. King's strong leadership in authoring and driving the passage of HR 997 – The English Language Unity Act – in the U.S. House of Representatives.
ProEnglish Executive Director Stephen Guschov and ProEnglish Director of Government Relations Dan Carter also both spoke at the Congressional Briefing and they informed the attendees about the progress of the English Language Unity Act in the U.S. House and U.S. Senate, as well as offering updates about the progress of the RAISE Act, the COST Act, and a potential repeal by President Trump of former President Clinton's onerous Executive Order 13166 which mandates foreign language translations and interpretations for all federally-funded agencies and contractors, and which costs Americans at least $2 billion a year according to a study by the Government Accountability Office.
ProEnglish greatly looks forward to holding additional Congressional Briefing events on Capitol Hill to engage members of Congress and their aides about the vital importance of passing the English Language Unity Act as soon as possible!