ProEnglish Spreads Message At Values Voter Summit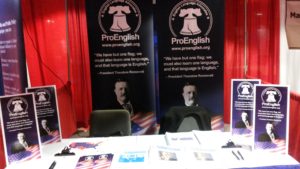 ProEnglish had a very successful time at the Values Voter Summit ("VVS") in Washington, DC, last week.
Thousands of VVS attendees stopped by the ProEnglish exhibitor booth at the summit and received copies of a variety of ProEnglish print materials, including our Fall 2017 newsletter (hot off the presses!), along with other newsletters, news articles, brochures, maps, and other print resources.
The list of speakers at VVS included President Donald Trump, Rep. Steve Scalise (a huge supporter of ProEnglish), Rep. Mark Meadows (another huge supporter of ProEnglish), Steve Bannon, Dr. Sebastian Gorka, Dr. Bill Bennett, Kellyanne Conway, Laura Ingraham, and Alabama senatorial candidate Roy Moore.
ProEnglish was able to engage an enormous number of VVS attendees, speakers, and organizational leaders about the urgent need for official English legislation in the United States.
VVS was a very successful event for ProEnglish. We greatly look forward to returning to VVS in 2018!