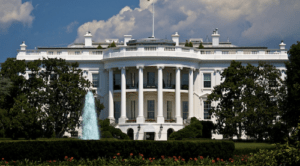 ProEnglish Returns To White House To Discuss Executive Orders
ProEnglish Executive Director Stephen Guschov and Director of Government Relations Dan Carter recently returned to the White House to continue discussions regarding official English legislation and also to continue to advocate for President Trump to sign a new Executive Order to effectively repeal and replace former President Clinton's onerous Executive Order 13166 that requires foreign language translations and interpretations for all federally-funded agencies and contractors.
ProEnglish now has met 6 times with different aides to President Trump and Vice President Pence at the White House concerning official English legislation and new Executive Orders.
President Trump recently stated that "to promote integration, assimilation, and national unity, future immigrants will be required to learn English and to pass a civics exam prior to admission" as part of his new immigration proposal. As well, Vice President Pence was a co-sponsor of the English Language Unity Act on five occasions when he was a member of Congress from Indiana.
ProEnglish greatly appreciates these multiple White House meetings, and will continue to work closely with the White House to advocate for more official English legislation and new Executive Orders.