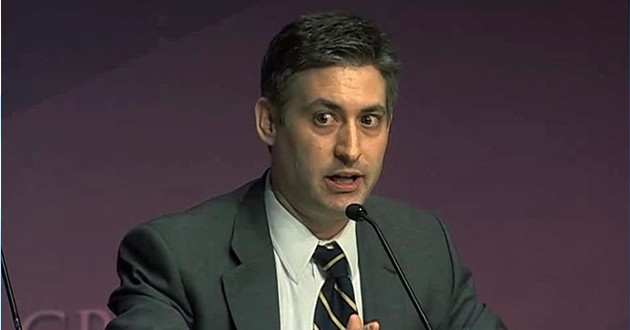 ProEnglish Executive Director writes Op-Ed for Washington Times

Robert Vandervoort
Executive Director of ProEnglish
October 28, 2015
"Almost 1 in 10 adults of working age in the U.S. have limited proficiency in English, more than 2.5 times as many as in 1980."
— 2014 report by the Metropolitan Policy Program of the Brookings Institute
The study from the Washington-based Brookings Institute showing that workers' English skills are steadily declining is a shocker, especially since immigrant workers and their children will account for most of the growth in our nation's labor force in coming decades. It is therefore imperative, the study concludes, that investing in English instruction "is critical to maintaining a skilled workforce."
In a recent analysis by the American Community Survey, a huge surge was recorded in those who speak Chinese, Spanish, Arabic and Urdu, Pakistan's national language. Consider that alarming trend, and then reflect on the latest Center for Immigration Studies report, released in early October. It says a record 63.2 million U.S. residents — native-born, legal immigrants and illegal immigrants — now speak a language other than English at home. That represents a surge of 16.2 million since 2000 and 1.4 million just since 2013.
No wonder Donald Trump and several other presidential candidates are addressing the issue of English. But now it is time that public policymakers at the federal and state level address this growing problem, especially since various polls reflect where the American people stand on a major aspect of this issue. In fact, a recent Rasmussen poll found that approximately 84 percent of likely voters agree that English should be designated by Congress as the official language of our government operations.
With President Obama's executive "deferral" order that essentially grants amnesty to millions of illegal aliens — which means giving them work permits and photo IDs — the problem of limited English or non-English speakers going into the workforce is only going to get worse. The order will serve as a magnet to draw a new wave of illegal immigration. School systems in all 50 states already are dealing with this year's surge of Central American children across the porous border. Costs are rising due to the addition of non-English speaking students, with additional bilingual and even multilingual teachers needed. (To cite just one example, the school system in DeKalb County, Ga., says approximately 150 different languages are spoken among its students. Translators, obviously, have to be hired.)
Aside from the fact that assimilation and Americanization have been crucial to our success as a heterogeneous nation, not having English as the sole language of our government and schools is creating miscommunication among people, adding to mounting taxpayer expense and even posing a serious public safety hazard.
For example, an executive order signed by President Bill Clinton (E.O. 13166) requires federal agencies and funds recipients to provide translations and interpreters for non-English speakers in their native language — at taxpayer expense. Also, what is common sense to most people is not for many state officials charged with protecting public safety. In state after state, they are caving into pressure from "immigrants' rights" groups to make driver's license examinations and manuals available not only in Spanish but in many other languages.
The predictable result? There are a growing number of accidents on our highways attributable to the fact that all too many immigrants, both legal and illegal, don't understand traffic signs in English. One ethnic special interest group in Virginia derailed a bill requiring written driver's license exams to be in English a few years ago by claiming tests in English violated Clinton's multilingual executive order.
The Wall Street Journal has reported on the incredible mess the European Union has made trying to accommodate and operate in 20 languages spoken by its 25 current members. The Texas city of El Cenizo changed its official language from English to Spanish. Miami-Dade County in Florida operates with both official English and Spanish. How long is it going to be before activists start demanding simultaneous translations of all proceedings in Spanish in some state legislatures or even in the U.S. Congress? Accommodating such a demand would naturally lead to calls for the same treatment by other linguistic groups. Politicians, afraid of appearing to discriminate, would take the path of least resistance and soon we would land right where the European Union is today.
The United States is one of the few countries in the world without an official language. Sixty-five countries located mostly in Africa, Asia and the Caribbean have already designated English their official language. Why shouldn't we?
Thirty-one states have enacted English as the official language of government laws. That's a wonderful trend, but a statute is needed at the federal level. That's why Republican Rep. Steve King of Iowa has reintroduced the bipartisan English Language Unity Act, which would make English the official language of the federal government. H.R. 997 has already garnered 63 co-sponsors.
It would be a welcome and effective pushback to the steady decline of Americans' English skills if the new Congress — reflecting the will of the vast majority of Americans — finally voted to make English our official language for all governmental operations.
• Robert Vandervoort is the executive director of ProEnglish.