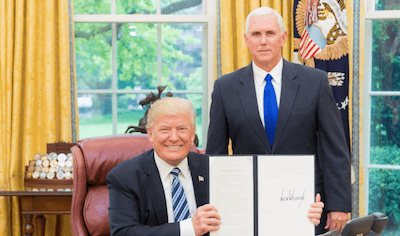 English Proficiency Featured In Trump Immigration Proposal
President Donald Trump unveiled a new proposal for a major overhaul of the legal immigration system, and English language proficiency is a key component of his administration's plan.
The White House directly sent ProEnglish a copy of the President's plan as a result of ProEnglish having had several meetings with aides to President Trump and Vice President Pence to discuss official English legislation and to advocate for a new Executive Order to repeal and replace former President Clinton's onerous Executive Order 13166 that requires foreign language translations and interpretations for all federally-funded agencies and contractors.
President Trump's new immigration proposal is similar to those used by Canada, Australia, New Zealand, and other countries, and features a points-based selection system. Immigrant candidates may receive points based on a wide variety of assets, including a person's age, skill set, education, employment offers, and ability to create other jobs.
President Trump also specifically stated that "to promote integration, assimilation, and national unity, future immigrants will be required to learn English and to pass a civics exam prior to admission."
Trump further observed: "Through these steps, we will deliver an immigration system that respects, and even strengthens, our culture, our traditions, and our values."
ProEnglish is greatly appreciative of the fact that learning English and English language proficiency are part of the President's new immigration proposal, and we will continue to work closely with the White House to advocate for this commitment to English language proficiency along with other official English legislation and new Executive Orders.