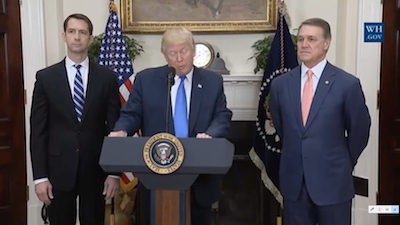 RAISE Act Reintroduced In U.S. Senate
Senators Tom Cotton (Arkansas), David Perdue (Georgia), and Josh Hawley (Missouri) have reintroduced the Reforming American Immigration for a Strong Economy (RAISE) Act in the U.S. Senate.
Representative Francis Rooney (Florida) will introduce companion legislation in the U.S. House of Representatives.
The RAISE Act is supported by President Trump, and it has been described by the White House as a bill that "will create a merit-based immigration system that protects our workers, our taxpayers, and our economy."
Section 5 of the RAISE Act replaces the current permanent employment-based immigration system with a skills-based immigration point system, akin to the systems used in Canada and Australia. The various point categories are based on predictors of immigrant success and economic contribution in this nation. Applicants will earn points based on education, high-paying job offers, age, record of extraordinary achievement, entrepreneurial initiative, and, of particular note here, English-language ability.
Sen. Cotton stated: "Immigrants who come here on skills-based visas will be better educated, more skilled, more fluent in English, more likely to become entrepreneurs, and have more working-age years ahead of them. Their success will work to the benefit of all Americans as we build a more prosperous nation together."
ProEnglish urges the U.S. Senate and U.S. House to pass the RAISE Act, and ProEnglish will be educating and advocating on behalf of the bill in the 116th Congress.